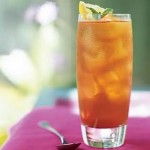 Every time you drink hot tea, you get an enormous infusion of potent compounds thought to combat heart disease and cancer. Incredibly, just one cup of hot tea contains a lot more of these compounds, known as antioxidants, than a single serving of any vegetable or fruit!
But how about iced tea? We had to do the research because around here, iced tea is a favorite not only during the summer but year round.
First, we studied convenience iced teas like instant and bottled to find out as much as we could about their total antioxidant power and found that homemade, fridge or hot brewed, iced tea had more antioxidants because, depending on the method used to create some instant teas, antioxidants can be destroyed during the process. Bottom line – If you're going to drink iced tea it will be worth the effort to go the homemade route – why not – it tastes better anyway and has 0 calories!
If convenience is still important to you, no worries, we were able to find some that still retained healthy antioxidant levels, some even beating concord grape juice. Most Lipton and Tazo tea products retain their antioxidant benefits.
As far as which brewing methods are better, fridge or hot brewed, both bring just about the same antioxidant levels. In addition, both green and black tea have comparable antioxidant amounts, which is in contrast to the popular belief that green tea contains more. Some studies we found indicated that green tea can be a powerful cancer fighter; while other studies indicate that black tea reduces the risk of heart disease.
The bottom line is that no matter how you like your iced tea, it is packed a healthy dose of antioxidants so load up your glass with ice, a touch of lemon, pour your tea and enjoy!