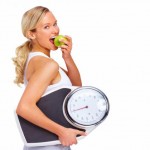 It's that time of year again when we're all pushed tons of unhealthy fad diets promising easy, fast weight loss without any effort on your part.  Does any of this really make sense to you when you put it all together?  I mean, do you think you could sustain a diet for long that requires that you eat cereal 3 times a day?  That you eliminate chocolate from your diet?  That you can loose weight without exercise?  Really?  Without exercise?  Even if you did lose weight, how are you doing to firm up all that loose skin?  How are you going to strenghten your heart?  How are you going to attain all the other benefits of exercise?  Come on, let's stop lying to ourselves and get with the program – a healthy, long term solution to weight loss and a healthy lifestyle.
If you do your homework you'll find a plan that works for you.  The American heart association lists health tips and exercises and a diabetic diet is also a good choice.  If you need more support when it comes to weight loss and a laid out plan consider The Diet Soltution, a simple, sensible way to loose weight and maintain your results.
Click here for more information about the Diet Solution Program.